About the IST
The International Society on Toxinology was founded in 1962 by a group on scientists and clinicians interested in advancing the science of toxinology. The Society had it's first international meeting in 1966 in Atlantic City, USA and it's Journal, Toxicon, was first published in 1963.


The purpose of the Society is to advance knowledge on the properties of toxins and antitoxins and to bring together scholars interested in these substances through a common Society.

This primary aim is achieved by:

Establishing a formal society to allow interchange of ideas and information on toxinology between its members.

Promoting such interchange through regular regional and international scientific meetings.

Disseminating toxinology research through the IST journal, Toxicon

Developing and promoting standards for research in toxinology, particularly ethical standards for animal research.

Encouraging development of research, through encouragement of research and researchers in toxinology, including new and young researchers.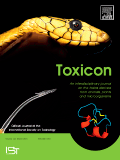 Recognising excellence in toxinology research through the Redi Award

Toxicon is the official journal of the IST and is currently published for the IST by Elsevier. At present, due to increasing demand, Toxicon now publishes 16 issues per year, in 2 volumes. The international ranking of Toxicon is steadily rising, reflecting the large number of quality papers, covering a diversity of toxins, published in the journal. Currently over 30,000 papers are downloaded from Toxicon monthly.


The publisher on behalf of the IST, Elsevier, have a dedicated website for Toxicon.

To encourage the exchange of ideas, sections of the journal may be devoted to Short Communications, Letters to the Editor and activities of the International Society on Toxinology.

Toxicon strives to publish articles that are current and of broad interest and importance to the toxinology research community. Emphasis will be placed upon articles that further the understanding and knowledge of toxinology.